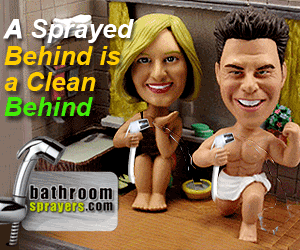 1.A. Probably the most asked question; Which Model should I get, what's the difference. Ok, truth be told there is not much difference between the different models as far as functionality goes, they all spray in a mostly similar manner. The biggest difference is between the Stainless Steel Models and the ABS Plastic Models and it shows in their warranties = 2 years for the Stainless Steel and 1 year for the Plastic. If you have children, if you want to know that dropping your sprayer on the hard floor or banging it on the wall won't break it....if you want the best then you want to get one of the Stainless Steel Models. They are the Mercedes of Sprayers and we have the best warranty in the industry for a very good reason, they are tested extensively. The trigger mechanism on these sprayers has been tested by robot for over 1 million times! That said I have had one of the Standard ABS Models for over 3 years and moved it to 3 different apartments, they are very good also.
1. Do I really need the Hand Held Bidet Sprayer? YES, the benefits can not only be immediate but are also long term as far your health is concerned. People used to think that washing more than once a week was harmful and that brushing your teeth every day would make them fall out. Washing with water is simply one of the best things you can do for your body and your health.
2. How difficult is it to install? It is very easy to install and comes complete with the components needed for do-it-yourself installation. Please see our step by step installation page.
3. Do I need any tools? All you need is an adjustable wrench and a Phillips Head Screwdriver.
4. Is the Hand Held Bidet Sprayer compatible with my toilet? Yes, our product is designed to fit most bathrooms in the United States, Canada, England, Australia, Mexico, South America, in other words most bathrooms in the world as long as they have a ½ inch water line or connection.
5. Why should I buy from Bathroom Sprayer.com ? We have the best selection of styles and colors available and our products come from one of the largest and most experienced manufacturers in the world and the country; Thailand, that established the practical and widespread use of the sprayer in the bathroom. Our high quality sprayers are ISO Certified and Hypo-Allergenic. Our Stainless Steel Sprayers and Valves come with a 2 year warranty.
6. What about the water pressure? The Hand Held Bidet Sprayer uses the same water as your toilet and you can adjust the pressure with the T-Valve control handle and also with the sprayer trigger. There are some companies out there who tell you that you need to turn the water off after each use. That is not the case with our sprayers. They are made to operate with continual water pressure and under conditions that usually don't offer the ability to control the pressure like you can with our valves. My personal sprayer has a dedicated water line with no valve control and has been under continual high pressure for almost 3 years without a problem. We can only assume that these other companies sprayers are not very well made and considering how many people have ordered our Stainless Steel Sprayers because of leaky plastic ones they bought elsewhere that is a very reasonable conclusion.
7. When will I receive my Hand Held Bidet Sprayer? You should receive your order within 2 weeks of shipment and you will be notified when it goes out.
8. How can I order my Hand Held Bidet Sprayer? You can order it from our secure website and choose from among our convenient payment options. You don't have to have a credit card.
9. I might be moving. Can I use my Hand Held Bidet Sprayer in my new bathroom? Yes. You can install your Hand Held Bidet Sprayer in your new home without incurring any additional costs or damage to your old apartment, simply hold on to the old water valve and reattach it and take your T-Valve and Sprayer with you.
10. What is your Shipping and return policy? All products come with a 14 day money back guarantee. Defective returns are eligible for return only within 14 days from the date of sale. Defective products will be exchanged for new products. For returns: You must return the product to us undamaged, in good condition, and with all manuals and enclosures that shipped with the product. Returned, damaged and/or incomplete products are subject to restocking fees of from 10% to 50%. In cases of major damage or abuse, the product may be refused. If we have sent you an incorrect product by mistake, we will replace it with the correct product at no cost to you.
11. Cancel/Change an Open Order: I just ordered can I cancel my order now? Once an order has been placed, if you would like to cancel this order, you must send us an email at bathroomsprayers@gmail.com stating to cancel it. An order that has already been processed cannot be cancelled over the weekend as our order fulfillment department is closed on Saturdays and Sundays. Orders can only be cancelled if they have not completed the shipping process. If your credit card has been charged but your order has not entered the shipping process, your order may be cancelled and credited less a 3.5% credit card transaction fee. If your order has already been received by the shipper then you may not cancel an order. If you would like to return an item that has already shipped, please see our return policies.
12. Reservation to Cancel or Change an Order? We reserve the right to cancel an order for whatever reason.